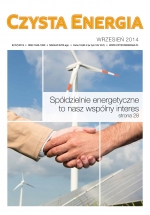 Published in Czysta Energia, 9/2014 (157). The article is also available online here.

Spoldzielnie energetyczne – przyklad niemieckiej energetyki obywatelskiej
Prawie polowa instalacji fotowoltaicznych i wykorzystujacych biomase lub biogaz, a takze wiecej niz polowa elektrowni wiatrowych w Niemczech zostala sfinansowana przez obywateli.
To cztery razy wiecej niz wynosza inwestycje w OZE przedsiebiorstw energetycznych. Te energetyczne inwestycje obywateli okresla sie w Niemczech mianem Bürgerenergie, czyli "energetyki obywatelskiej". To wszelkie projekty, w ktorych osoby prywatne i/lub lokalne przedsiebiorstwa (poza duzymi koncernami energetycznymi) pojedynczo lub wspolnie inwestuja wlasny kapital' w obszarze energetyki. Chodzi nie tylko o OZE, ale o wszelkie inwestycje w energetyce, np. zwiazane z siecia energetyczna czy oszczedzaniem energii. Mozliwe sa rowniez udzialy mniejszosciowe obywateli. Spoldzielnie energetyczne sa jedna z form energetyki obywatelskiej.