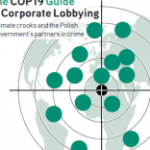 Published by Corporate Europe Observatory, CEO, and Transnational Institute, TI, in October 2013. Research and writing: Rachel Tansey, with contributions from Karolina Jankowska, Nina Holland and Belen Balanya.

The COP19 Guide to Corporate Lobbying. Climate crooks and the Polish government's partners in crime
The United Nations Framework Convention on Climate Change (UNFCCC) is yearly talks have become a "must attend" event for huge numbers of business and industry lobbyists, all eager to promote their preferred "solution" to tackling climate change – solutions which protect their business interests, provide them with new opportunities to profit and most importantly of all, allow them to continue polluting the climate and destroying the environment for everyone. False solutions to climate change have been promoted by powerful corporations and business interests for years, from a free market in pollution – a global carbon market that helps rich companies avoid emission cuts at source – to public funding for controversial technologies like carbon capture and storage (CCS), nuclear power and agrofuels which have been shown to harm people and the planet.
(…).